The days are getting longer, and we are expecting a surprising visitor – spring is near. For people planning to get married or participating in any large parties, this will be the busiest season of the year, as they have to get ready for summer festivities.
Organizing any large event is always a crazy experience, so Files.fm offers a new solution to improve at least one aspect of party-planning: shared photo storage.
Have you ever received a frantic message 'please please upload your photos from my birthday, I need them now'? Or maybe you've been on the receiving end – getting two links to cloud storage space, three direct posts on Messenger, hundred random photos on Whatsapp with some e-mails mixed in for fun? Sorting through the photos and later sending them to everyone interested is a lot of work.
Shared photo storage makes it easy – you can create a folder on Files.fm for free and send the link to everyone involved. They can see the photos in your folder and upload new pics, so that everyone has the opportunity to see your drunk selfies.
Here are some things to keep in mind:
After creating the folder, click on "Share" button and choose the option "Anyone with a link can upload". It looks like this: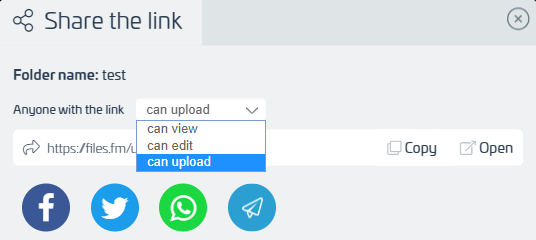 Invite people to upload the best quality photos they have – contrary to some mailing options, photos on Files.fm do not lose their resolution. You'll be surprised at the difference between photos shared on cloud storage and via usual messaging services.
If you want, you can create as many subfolders in the shared folder as you like. It is a good option if you don't want to mix up photos taken by different people. You can either create subfolders yourself or ask everyone to drag&drop the folder of their event photos, in which case it will automatically appear as a subfolder of the shared folder.
Don't forget that you can upload videos, audio files and documents as well. This greatly expands the usability of a shared folder. Some other situations when it might come in handy: corporative events, folders shared with clients, shared folder with your university colleagues or research partners so that everyone can have equal access to materials.
The files can be downloaded using P2P (peer-to-peer) network, which means faster download speed and more reliable connection. It also means that there are no upload or download limits (there is limited space that's available on the basic free account, though).
Another convenient solution provided by Files.fm is a file upload form. Mostly used by business clients, it is a customizable form for integration on your website. You can use this to receive materials from clients, organize competitions, lotteries and quizzes, or create any type of website where file upload is needed. It is useful in a wide array of fields, from translation agencies (all your source tests in one organized space!) to printing studios (receive designs without delay!).
We at Files.fm wish you a remarkable spring and summer filled with many adventures. And if you ever feel nostalgic, just open your shared folder and see all your silly, respectable and shared photos.