If warning or error notifications are shown while the software is running, they must be examined and analyzed in detail to resolve the cause of the problem. There can be multiple causes of warnings or errors for example invalid computer settings, internet connection problems, incorrectly entered information while creating backup, lack of administrator permission, unable to access open files etc.
To examine notifications for more detail:
1. In notification form click Show.
2. In Log data list click Result.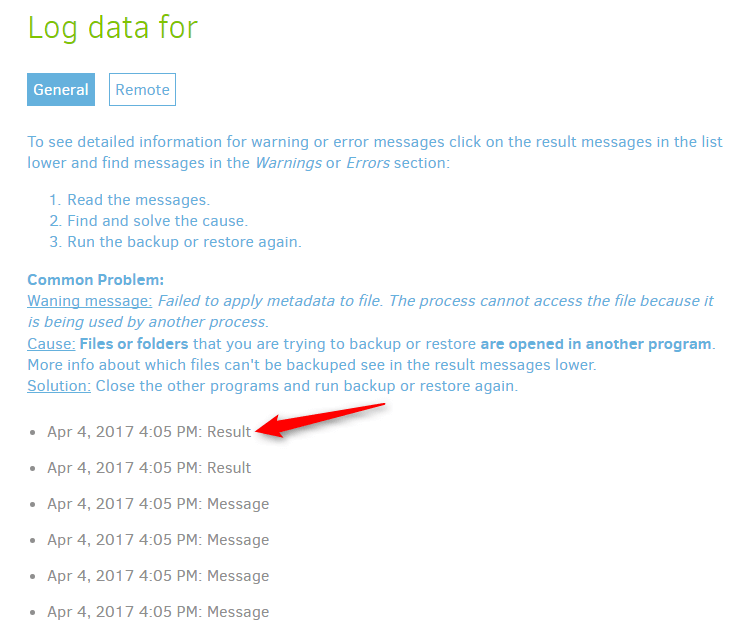 3. Find Warnings and/or Errors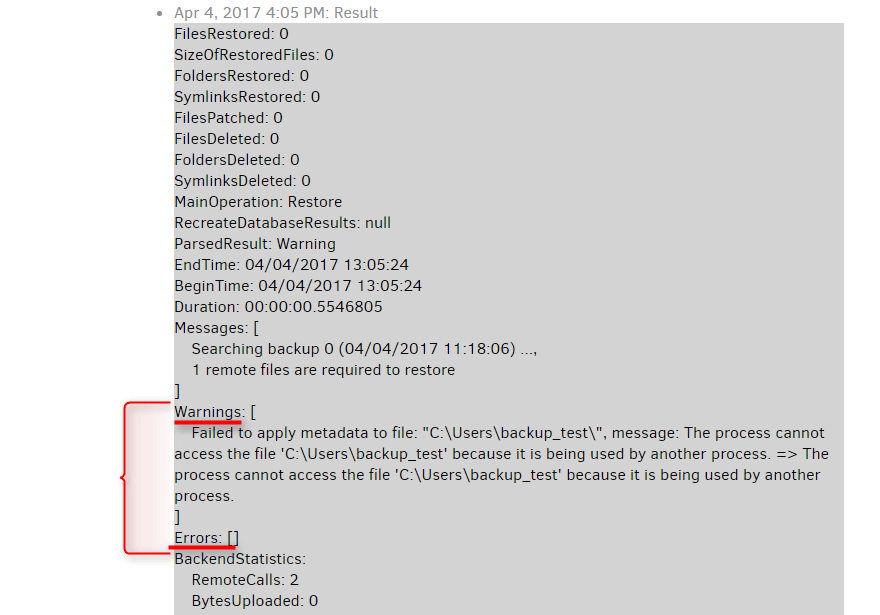 4. Try to understand the causes of the problem (the most frequent notifications can be seen below).
5. After troubleshooting click Dismiss in the notification form.

6. Repeat the action (backup creation or backup restore) you were doing before notification was shown.
The most frequent notification explanations
Type
Notification text
Cause
Solution
Error
The remote server returned an error: (401) Unauthorized
Incorrect Files.fm username and/or password
Enter correct Files.fm username and/or password
Error
The remote name could not be resolved: 'webdav.files.fm'
Cannot connect to Files.fm server
Make sure you are connected to the internet
Warning
Failed to apply metadata to file
File or folder which backup is created for or restored, is opened in different software
Close file or folder in different software (including file explorer if file is in particular folder)
Error
Failed to decrypt data (invalid passphrase?): Invalid password or corrupted data
Entered incorrect backup password
Enter backup password correctly
Error
Found … remote files that are not recorded in local storage, please run repair
On Files.fm server other files are already stored in the selected folder.
1) If multiple backups are created, make sure they do not have the same Path on server
2) Log in your Files.fm account and check if other files are not stored in that folder https://files.fm/
* If you cannot find the solution for your problem, contact technical support.
Previous section: File recovery from backup
Next section: Configuration of email notifications for backup activities